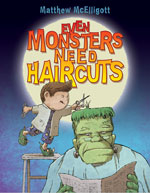 EVEN MONSTERS NEED HAIRCUTS
is one of this year's Golden Sower nominees. Here's a quick capsule of the story:
Once a month, when the full moon rises, it's time for the young son of a barber to get to work. His customers are mostly regulars, but they are a very unusual bunch.
He'll need more than just scissors to tackle the monstrous task ahead–some rotting tonic, horn polish, and stink wax should do the trick. Being a midnight barber isn't easy, but even monsters need haircuts!
http://matthewmcelligott.com/monsters/index.php
DESIGN YOUR VERY OWN MONSTER!
The
Monster Machine
is now up and running. Come to the library and get on the children's computer on the right side. Go to Internet favorites and find Monster Machine. It will take you to the site where you can generate a head, body, arms, and legs to create your very own monster. It will print out a sheet on the library's printer that you can cut out and color and display with all the rest of the monsters on the wall behind the children's computers!